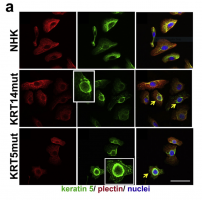 Missense mutations in keratin 5 and 14 genes cause the severe skin fragility disorder epidermolysis bullosa simplex (EBS) by collapsing of the keratin cytoskeleton into cytoplasmic protein aggregates. Despite intense efforts, no molecular therapies are available, mostly due to the complex phenotype of EBS, comprising cell fragility, diminished adhesion, skin inflammation and itch.
We extensively characterized KRT5 and KRT14 mutant keratinocytes from patients with severe generalized EBS following exposure to the chemical chaperone 4-phenylbutyrate (4-PBA). Findings: 4-PBA diminished keratin aggregates within EBS cells and ameliorated their inflammatory phenotype. Chemoproteomics of 4-PBA-treated and untreated EBS cells revealed reduced IL1β expression- but also showed activation of Wnt/β-catenin and NF-kB pathways. The abundance of extracellular matrix and cytoskeletal proteins was significantly altered, coinciding with diminished keratinocyte adhesion and migration in a 4-PBA dose-dependent manner.
Together, our study reveals a complex interplay of benefits and disadvantages that challenge the use of 4-PBA in skin fragility disorders.
Read the full article in EBio Medicine.